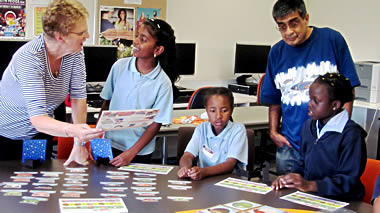 Education is a vital resource for living in Australian society, enabling young people to achieve economic independence and security and to participate in day-to-day activities and civic life. Supporting education, especially among children and young people and their families, is the Trust's current focus. We are interested in a wide range of initiatives in this area.
In recent grant rounds we have been supporting homework clubs. The clubs are a great way to help address educational disadvantage. A relatively small grant can make a big difference to a homework program and, in turn to the young people it supports.
There is a variety of homework clubs across the western suburbs, catering for primary and secondary age students as well as young adult learners.
These clubs provide extra learning support to people who may have had disrupted education and who may lack family support to study.
Homework programs are staffed by paid staff and/or volunteers. They help students with their literacy and homework, help build confidence and provide a safe place to study. Some also provide access to learning resources, such as computers, that young people may not have in their own homes.
The clubs target young people with a high level of need (including those from refugee and migrant backgrounds).
They generally work in partnership with young people, and their families and communities. They support and empower them to reach their potential in ways that are respectful and just.
We work closely with the Centre for Multicultural Youth's Beyond the Bell Program when promoting and allocating grants. This partnership helps to make sure that our grants go to centres that need them most and will use them wisely.
Our work in action
Galvin Park Secondary College in Werribee has offered a homework Club to VCE (year 12) students whose first language is not English. With a grant from the Stan Willis Trust, the college was able to extend the club to year 9 and 10 students, helping them to learn study skills at an earlier stage in their education. The revision classes and exam strategy workshops provided have improved exam outcomes.
The Western English Language Centre Homework Club in Braybrook introduced young people to computers. Most had recently arrived from war torn and developing countries. A Stan Willis Trust grant was used to purchase computers and train volunteer tutors. Many of the young people had had very little, if any, experience with information technology and felt left behind their Australian born peers. Young people's confidence and connection to the school and friends improved as a result of their improved computer skills.
The South Sudanese Community of Australia used a grant from the Stan Willis Trust to provide a flexible program for young adults. Help was offered with maths, literacy and school assignments. The club also assisted with resume design, information about employment and study pathways and referral to services.